For offline viewing, the files of the entire Graveyard Survey may be downloaded here.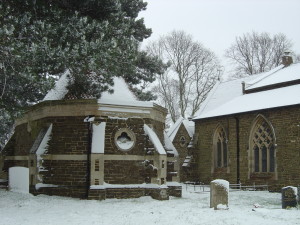 Visit an unusual piece of Bedfordshire history this summer
The Maulden Mausoleum is a fine example of one of the first mausolea to be built in the country with the earliest parts being built by Thomas Bruce, a descendant of the legendary Robbie!
The County Council restored the building in 2001 with help from the Heritage Lottery Fund and other donors. It is going to be open for the public to view on dates through this summer by courtesy of Maulden History Society who manage the property.
The whole Mausoleum, including the fascinating early crypt, is open on Sunday 25 th June,
and 10th September 2017 between 3 and 5 pm.
The Mausoleum is in the churchyard of St Mary the Virgin, Maulden MK45 2AU.
There is parking close by.
For further information contact Maulden History Society 01525 405732
All Meetings take place in the Church Hall, Church Road, Maulden MK45 2AU.
25th May 2017
7:45 pm
Speaker: Stewart Smith "Luftwaffe over Luton"
25th June
3-5 pm
Access to the Ailesbury Mausoleum and Crypt.
29th June 6.30 pm
Visit to the De Grey Mausoleum in Flitton. Tour to be led by Margaret Butt.
10th September
3-5 pm
Heritage Open Day. Access to the Ailesbury Mausoleum and Crypt.
28th September
7:45 pm
Speaker: Michael Welling "A Trip Down Memory Lane"
26th October
7:45 pm
Speaker: Colin Simpson "John Newton's Amazing Grace"
23rd November
7 pm
Annual Dinner
22nd February 2018
7:45 pm
Speaker: Derek Niemann "A Nazi in the Family"
26th April 2018
7:45 pm
Annual General Meeting

Speaker: Sue Miles "A History of Garden Design"
In addition, the upper part of the Ailesbury Mausoleum may be viewed (by request) when St. Mary's Church is open.
Please contact the Secretary for further details by using the contact page on this website.